Wayside Chapel, Wednesday 27 May 2020 - Online
Wayside Chapel has provided unconditional love, care and support for people on and around the streets of Sydney since 1964. Each year, thousands of people visit Wayside's two centres in Kings Cross and Bondi for assistance in gaining equitable access to essential health, welfare, social and recreational services.
On Wednesday 27 May at 5:30pm we hosted a special event in support of three innovative Wayside Chapel programs. All programs have been adapted to best help people in crisis throughout the COVID-19 pandemic. 
Over $215,000 was raised in support of Wayside Chapel's amazing work. You can relive the action here, and you can pledge your support to Wayside Chapel here.
This event was supported by IAG, Macquarie Group and Clayton Utz.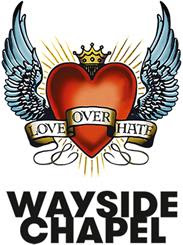 Project #1: Emergency Centre-based program – Kings and Bondi

Our Community Service Centres (CSC) continue to help the most vulnerable, whilst ensuring that robust health precautions have been put in place to keep people safe. Open for limited hours between 9:30am - 1pm, CSC provides basic essentials and care coordination to ensure the health and wellbeing of people in need. In the afternoons we close our doors, but provide assertive outreach and care-coordination by phone to ensure needs are met for people who are isolated and housebound.

Project #2: Emergency Outreach Program - Foot Outreach

After Wayside Chapel's doors close in the afternoon, our outreach teams hit the streets in our local area, providing care packs, meals and further support to people sleeping rough, as well as checking in on people who have secured temporary accommodation. They are a lifeline for people experiencing homelessness. 

Project #3: Emergency Outreach Program - Van Outreach

Driving the iconic Wayside fleet of vans, additional outreach teams deliver care packs to multiple locations around Sydney, dropping in to front yards and front doors of people who are isolated in their homes, but still in need. A visit from our outreach angels brings hope and essential items to members of our community reminding them that they are not alone, or forgotten.